2017 Conference
3rd International Conference on Functional (Psychogenic) Neurological Disorders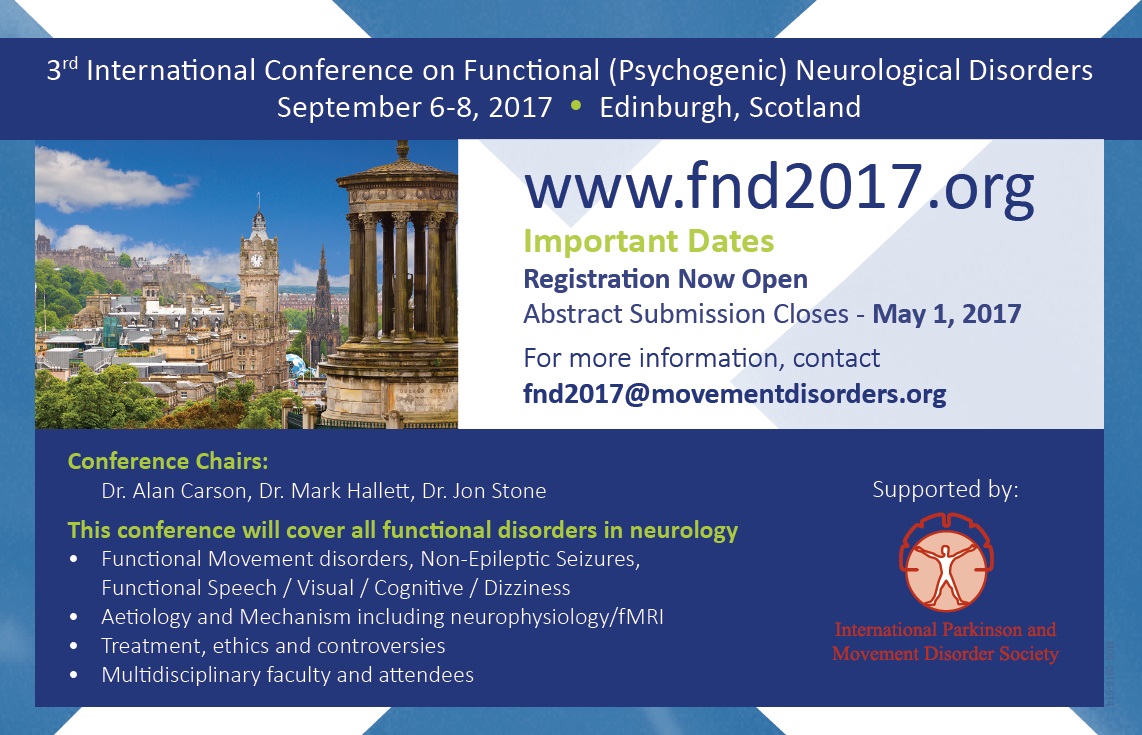 Thank You for Joining Us in Edinburgh
The 3rd International Conference on Functional (Psychogenic) Neurological Disorders took place on September 6-8, 2017, in Edinburgh, Scotland.
This three-day conference covered all functional disorders in neurology, including:
Functional movement disorders, non-epileptic seizures, functional speech/visual/cognitive/dizziness

Aetiology and mechanism including neurophysiology/fMRI

Treatment, ethics and controversies

Multidisciplinary faculty and attendees
---
Dear Colleagues,
The organizing committee of the 3rd International Conference on Functional (Psychogenic) Neurological Disorders extends their sincere thanks for joining us in Edinburgh, Scotland, September 6-8, 2017.
Functional disorders are the second commonest reason for a referral to a neurologist. There have been two previous meetings focusing on functional movement disorders (2004 and 2009) and some stand-alone meetings on non-epileptic seizures; however, this is the first time that a meeting has covered all functional neurological disorders, adding sessions on symptoms such as dizziness, speech, and cognitive symptoms.
This multi-disciplinary conference brought together leading international experts from a range of backgrounds including: neurology, physiology, psychiatry, psychology, and ethics, many of whom co-authored the recent text "Functional Neurologic Disorders" (ed Hallett, Stone, Carson) to discuss clinical presentations (Day 1), mechanism and aetiology (Day 2) and treatment (Day 3).
The emphasis was on inter-disciplinary interaction and understanding and considerable time was included in the program for discussion. The conference was intended for anyone wanting to improve his or her clinical skills in this area as well as those with a research interest in this fascinating and evolving topic.
With Kind Regards,

Alan J. Carson, Mark Hallett and Jon Stone
Co-Chairs, Scientific Program Committee

| | | |
| --- | --- | --- |
| | | |
| Alan J. Carson | Mark Hallett | Jon Stone |

On behalf of the Conference Scientific Program Committee
Alan J. Carson, MB ChB, MPhil, MD, FRCPsych, FRCP
Anthony David, FRCP, FRCPsych, MD
Marina AJ De Koning-Tijssen, MD, PhD
Mark J. Edwards, MBBS, BSc, FRCP, PhD
Marjorie Garvey
Mark Hallett, MD
W. Curt LaFrance, Jr., MD, MPH
Anthony E. Lang, MD, FRCPC
Codrin Lungu
Timothy R. Nicholson
Markus Reuber
Karen S. Rommelfanger, PhD
Jon Stone, FRCP, PhD
Related Resources
Download the Final Program
Download Quick Guide to Edinburgh
Contact Us
For more information, contact fnd2017@movementdisorders.org
This meeting is supported by: