Lectures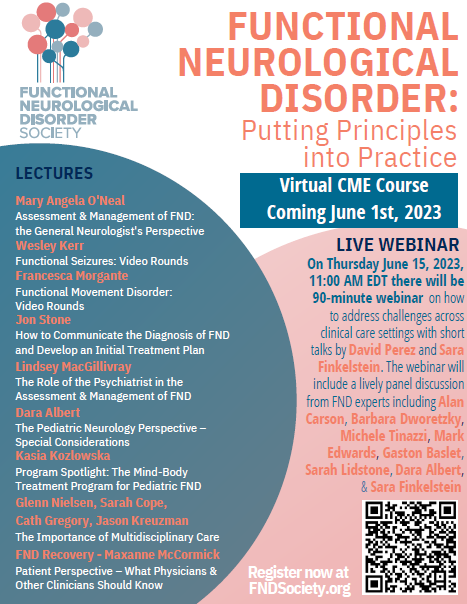 The following lectures will be available beginning 1 June 2023. Each lecture will be approximately 45 minutes and available to watch on demand.
Assessment & Management of FND: the General Neurologist's Perspective
Presenter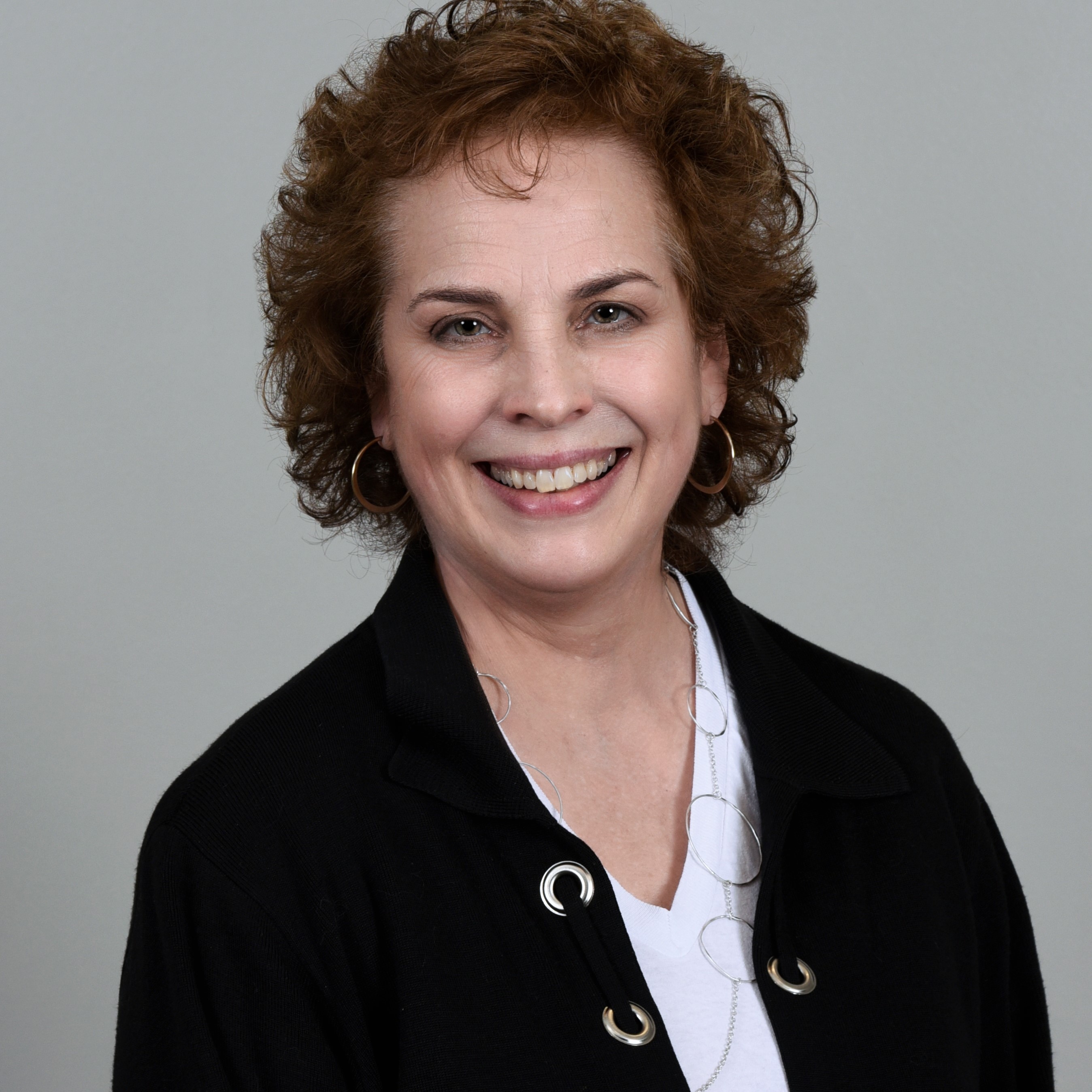 Dr. Mary Angela O'Neal is an expert in Women's Neurology and Functional Neurologic Disorders. She serves as the Director of the Women's Neurology Program at Brigham and Women's Hospital. Further, she's written multiple papers on these subjects and edited several books including: the American Academy of Neurology (AAN) Continuum edition of "Neurological Illness in Pregnancy", "Women's Neurology- what do I do now?", the Neurologic Clinics edition on the "Neurology of Pregnancy" and "Neurology and Psychiatry of Women: A Guide to Gender-based Issues in Evaluation, Diagnosis, and Treatment". She also directs a Harvard Medical School course in Women's Neurology and Psychiatry and for many years directed the Neurology of Pregnancy course at the American Academy of Neurology.
Lecture Description
This talk will address the epidemiology and costs of FND and include a brief discussion of some of the common FND subtypes (motor FND, sensory FND, PNES, PPPD and FCD). The lecture will introduce the approach to discussing the diagnosis and engaging the patient in treatment. Some of the challenges in treating FND and the need for a multidisciplinary team will also be presented.
Functional Seizures: Video Rounds
Presenter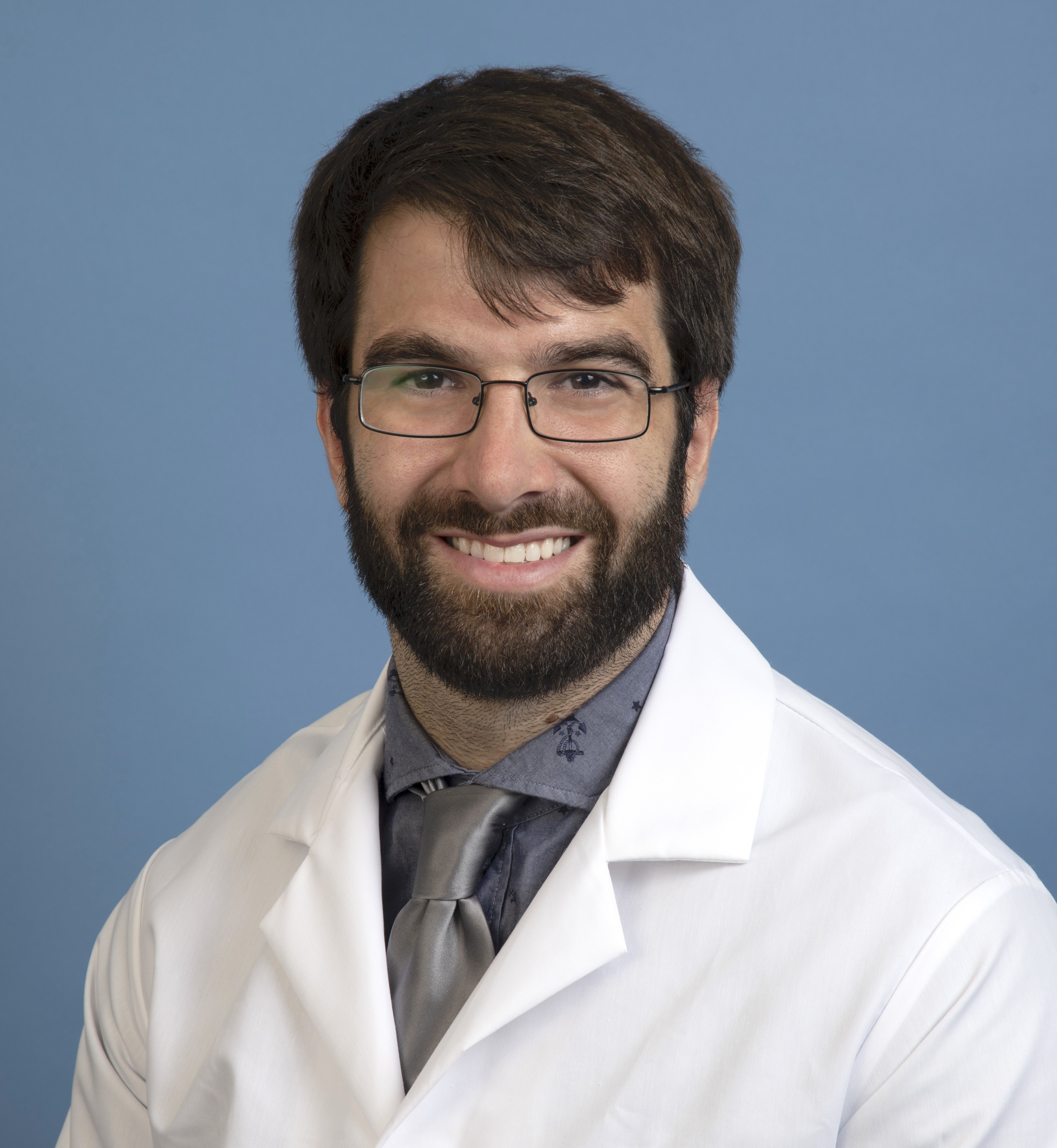 Wesley T. Kerr is an Assistant Professor at the University of Pittsburgh. He is a board-certified epileptologist and biostatistician. His clinical work focuses on the diagnosis and treatment of patients with seizures not effectively treated with antiseizure medications, which includes both functional seizures and medication-resistant epilepsy. His research focuses on the utilization of clinical data and machine learning to improve the diagnosis of functional seizures.
Lecture Description
This practical talk will use video examples to highlight key features of ictal behavior in epilepsy and functional seizures, otherwise known as psychogenic nonepileptic seizures (PNES). The goal is to develop the viewer's pattern recognition for visually apparent patterns characteristic of either epileptic or functional seizures. We also will discuss situations where video without EEG is sufficient for a reliable diagnosis, as well as when concurrent video-EEG is necessary.
Functional Motor Disorders: Video Rounds
Presenter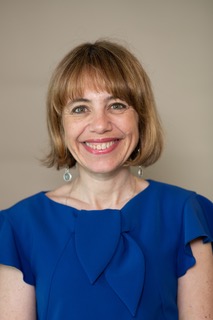 Francesca Morgante is Professor of Neurology at St. George's University of London, UK, and consultant neurologist at St George's University Hospital where she leads the Multidisciplinary Advanced Therapies Movement Disorders Team. Her research in the FND field spans from conducting large cohort studies in people with Functional Motor Disorders to understanding the pathophysiological basis of Functional Motor Disorders, specifically Functional Dystonia. She is one of the founding members and part of the Education Committee of FNDS.
Lecture Description
This lecture will discuss the main clinical presentations of Functional Motor disorders (Functional Weakness, Functional Tremor, Functional Dystonia, Functional Gait Disorder, Functional Jerks, Functional Tic-like behaviours). For each clinical presentation, video examples of positive signs will be provided. It will be also addressed the role of electrophysiology as a fundamental tool for the diagnosis of functional weakness, tremor, and jerks. The goal is to show that the diagnosis of Functional Motor disorders should be based on precise neurological and electrophysiological findings, rather than being exclusionary.
How to Communicate the Diagnosis of FND and Develop an Initial Treatment Plan
Presenter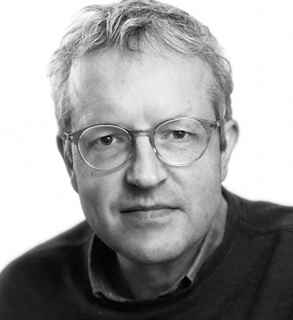 Jon Stone is Professor of Neurology at the University of Edinburgh and Consultant Neurologist with NHS Lothian. Jon was a medical student in Edinburgh before working in Oxford, Leeds and Newcastle and then returning to Scotland. Since 1999 Jon has promoted a new transparent, pragmatic and multidisciplinary approach to FND which had been a neglected and stigmatised problem In 2009 he made the first website (and now app) for patients with FND at www.neurosymptoms.org which is now widely used across the world. He has published over 300 articles in the area including large cohort, mechanism and treatment studies. and led on new diagnostic criteria for FND in DSM-5 and ICD-11. He is the first Secretary and cofounder of the new international FND society (www.fndsociety.org) . His awards include the Jean Hunter prize from the Royal College of Physicians (2014), Royal College of Psychiatry President's Medal (2017), the Ted Burns Humanism in Neurology Award from the American Brain Foundation (2020) and the John Walton Lecture Award from the Association of British Neurologists (2022).
Lecture Description
Sharing a diagnosis of FND successfully is often considered an essential platform for further treatment. Many clinicians struggle with it for a variety of reasons which this lecture will disentangle. Ultimately many issues in this area are solved by approaching the communication of FND as you would any other diagnosis in neurology or psychiatry. Triaging for further therapy will also be discussed.
The Role of the Psychiatrist in the Assessment & Management of FND
Presenter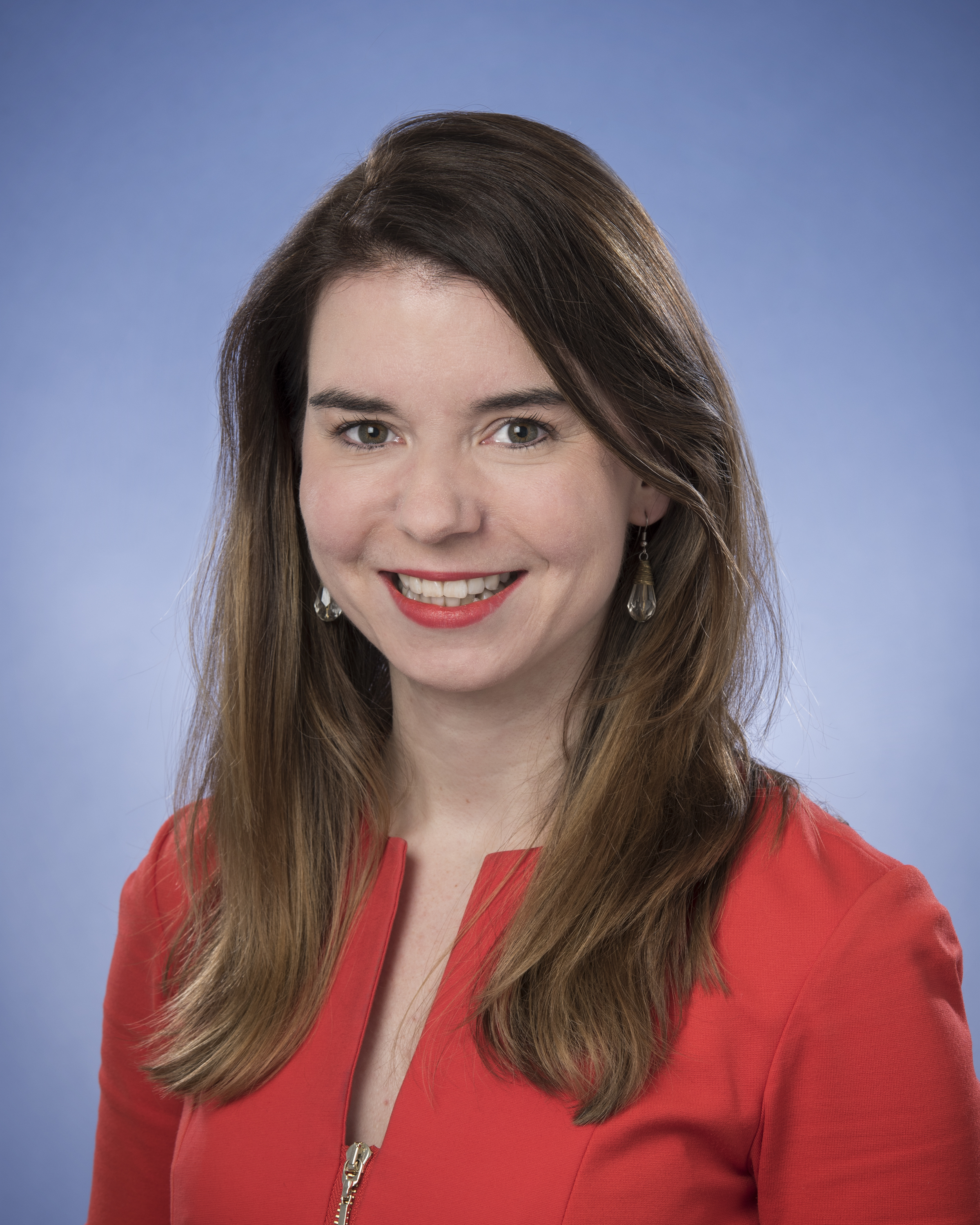 Dr. Lindsey MacGillivray is an Assistant Professor at the University of Toronto and staff psychiatrist at the University Health Network. She completed an MD/PhD program at McMaster University, with a research specialization in neuroscience, followed by a psychiatry residency at the University of Toronto. Dr. MacGillivray is a clinician-teacher with academic interests in the fields of neuropsychiatry and psychosomatic illness. She works within the medical psychiatry and inpatient psychiatry programs at the Toronto Western and Toronto General Hospitals and is a psychiatrist with the Integrated Movement Disorders Clinic at the Toronto Rehabilitation Institute.
Lecture Description
This is a case-based lecture that describes practical approaches to the psychiatric assessment and management of FND. The lecture encourages practitioners to embrace an integrated, neuropsychiatric framework.
The Pediatric Neurology Perspective – Special Considerations
Presenter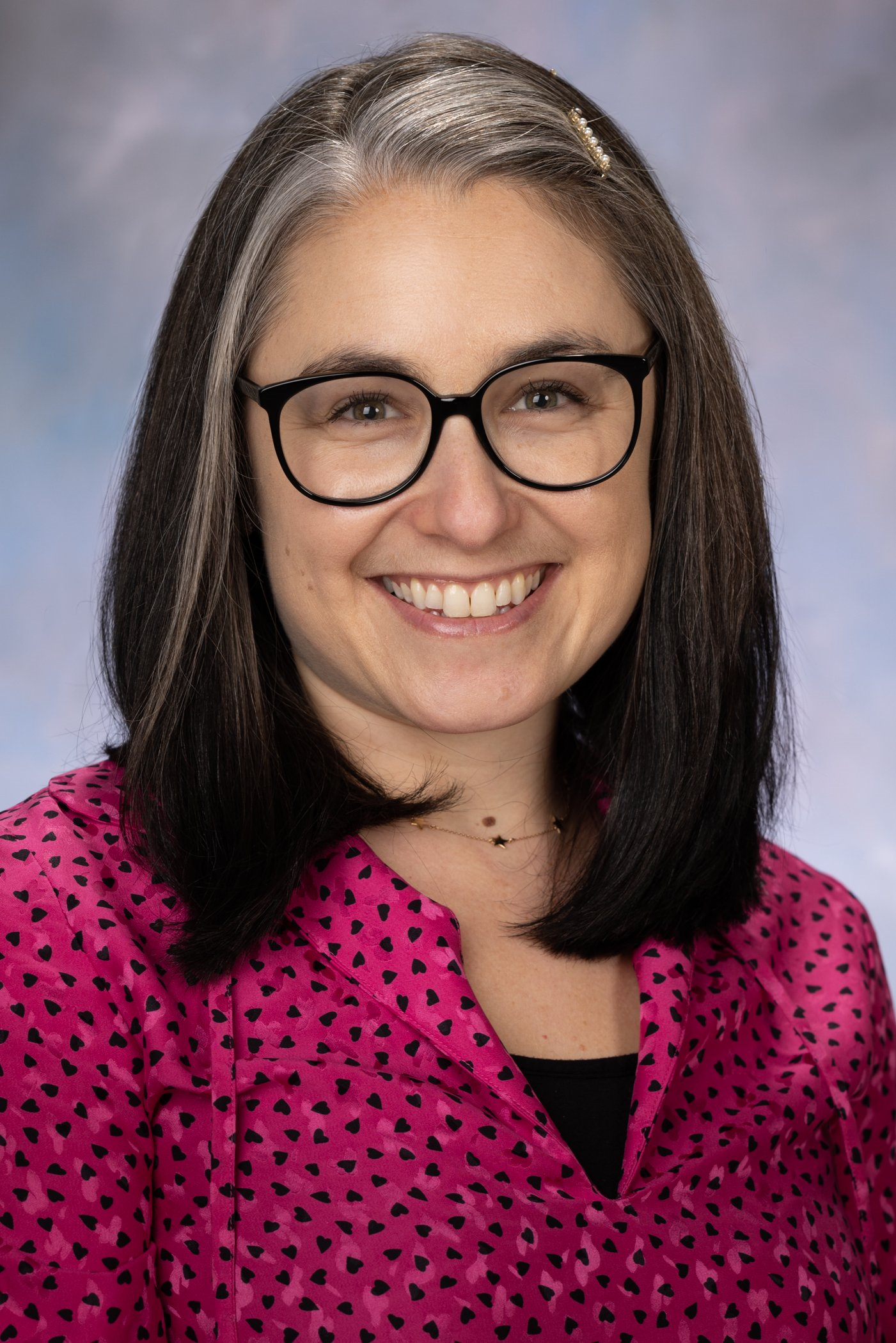 Dara Albert is a Child Neurologist and Epileptologist and Associate Professor at Nationwide Children's Hospital in the Department of Pedciatrics, Division of Neurology. She is the Medical Director of a multidisciplinary Pediatric Functional Neurologic Disorder Seizure Clinic. The goal of the clinic is to help patients and families to move from diagnosis to treatment. She is engaged in clinical research on this topic and using quality improvement to improve clinical outcomes.
Lecture Description
Functional neurologic disorders occur in children and adolescents and if not recognized or adequately treated during the pediatric years, could persist into adulthood. There are some special considerations when diagnosing and managing FND in this patient population. This presentation will discuss some of those special considerations to gain a better understanding of how we can best help pediatric patients and their families.
Program Spotlight: The Mind-Body Treatment Program for Pediatric FND
Presenter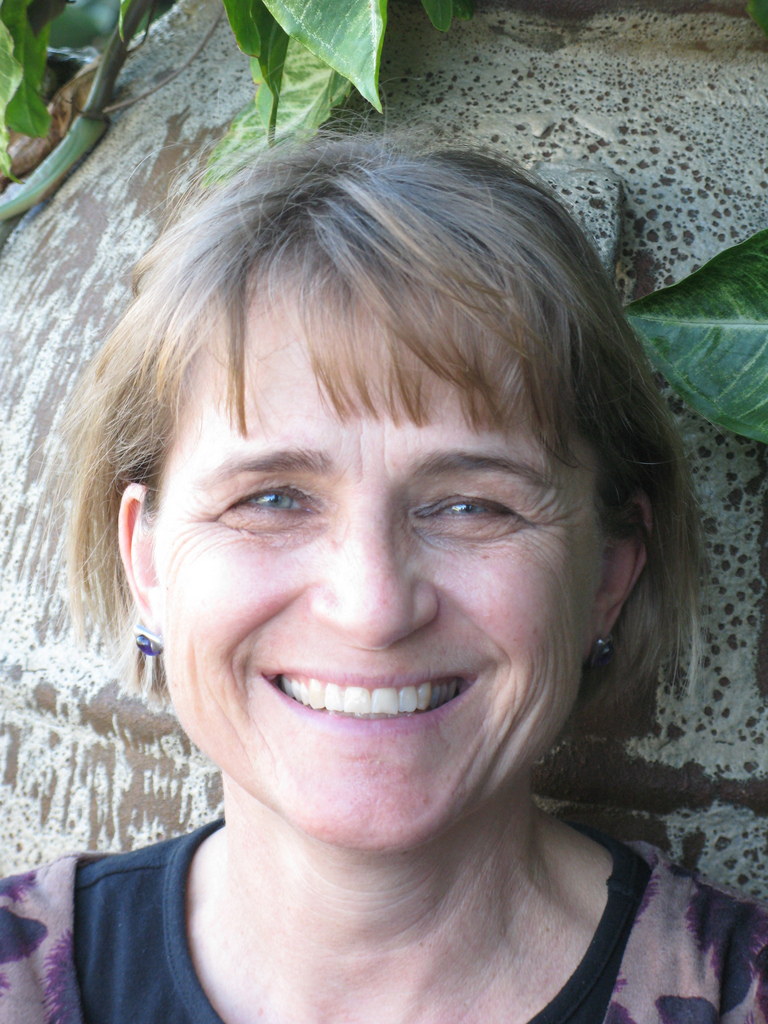 Kasia Kozlowska is a child and adolescent psychiatrist at The Children's Hospital at Westmead, a research fellow at Westmead Institute of Medical Research, and clinical professor in the Disciplines Psychiatry and Child & Adolescent Health at the University of Sydney. In her clinical role she and her team run a multidisciplinary consultation-liaison team, a research program for children with functional neurological disorder, and a specialist program—the Mind-Body Program—for treatment of children disabled by functional neurological symptoms.
Lecture Description
The lecture examines the process of assessment, provision of a diagnosis, the co-construction of a formulation with the child/adolescent and family and the use of the formulation to put together a mind-body treatment program. Three clinical scenarios of different complexity and clinical need are discussed.
The Importance of Multidisciplinary Care
Presenter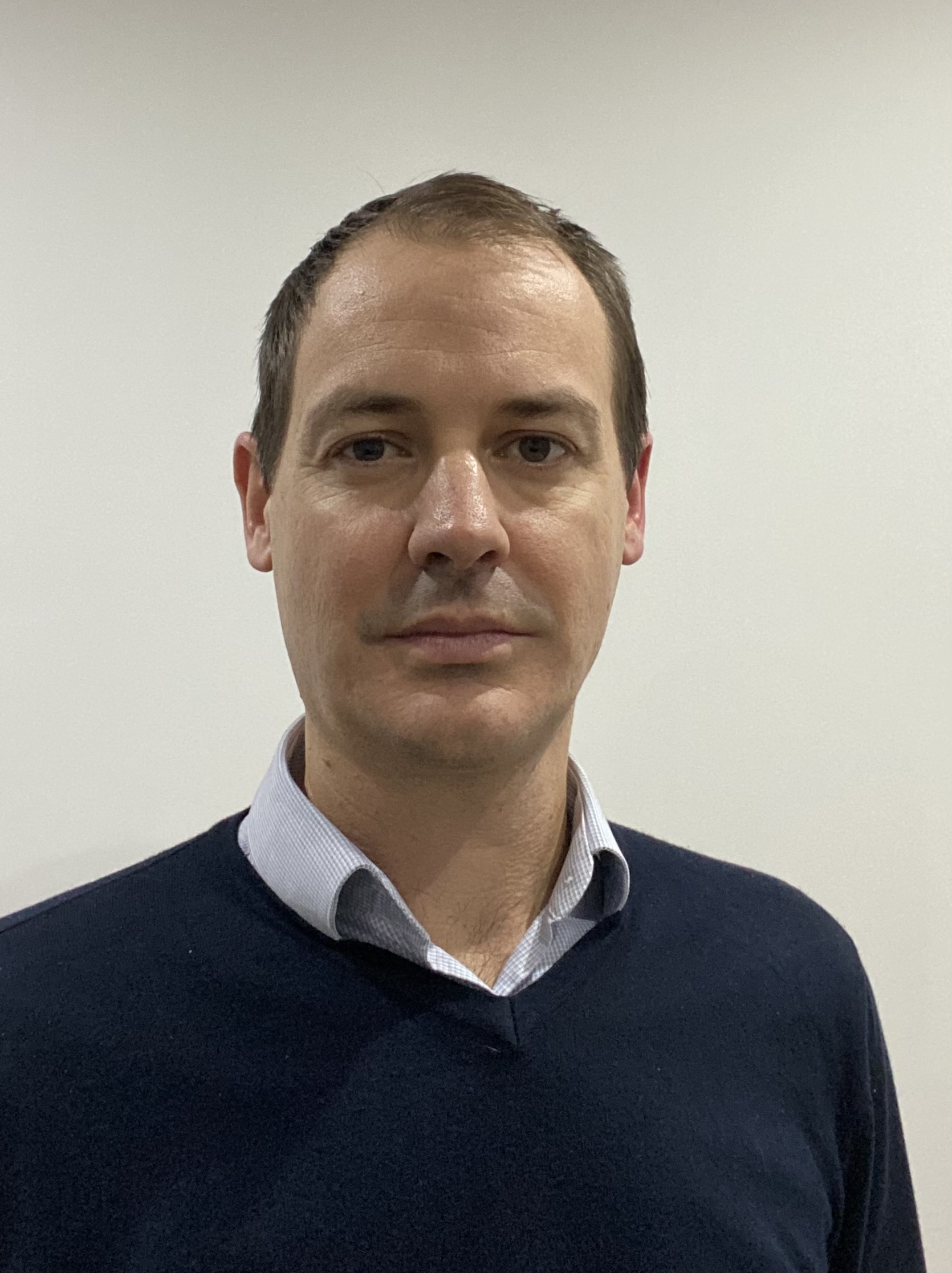 Glenn Nielsen is a clinical-academic neurological physiotherapist at St George's University of London and St George's University Hospital, where he leads a specialist NHS physiotherapy service for functional motor disorder. He began his career at Sir Charles Gairdner Hospital in Perth Western Australia before moving to London and starting work at the National Hospital for Neurology and Neurosurgery in 2007. He was awarded an NIHR Clinical Doctoral Research Fellowship in 2014 and while working at the National Hospital he completed his PhD at the UCL Institute of Neurology on the topic of physiotherapy for functional neurological disorder (FND). He is currently leading a multicenter, single-blind, randomised controlled trial of specialist physiotherapy for functional motor disorder (Physio4FMD.org) and an NIHR-funded observational study on functional somatosensory symptoms.
Presenter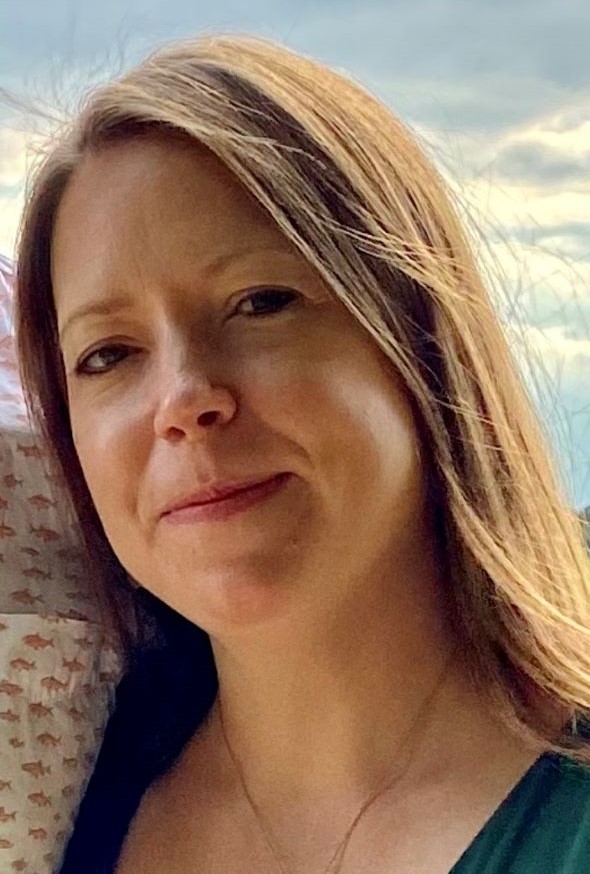 Sarah Cope is a Clinical Psychologist, an accredited CBT therapist, and an accredited EMDR therapist. She leads the Psychology provision within the Neuropsychiatry Service at St. George's Hospital, London, UK; as well as working in private practice. She is the chief investigator of MODIFI, which is a National Institute for Health and Care Research (NIHR)-funded feasibility study examining Eye Movement Desensitisation and Reprocessing therapy (EMDR) for Functional Neurological Disorder (FND). Additionally, she is a co-investigator for the NIHR-funded feasibility study Acceptance and Commitment Therapy (ACT) for Functional Cognitive Disorder.
Presenter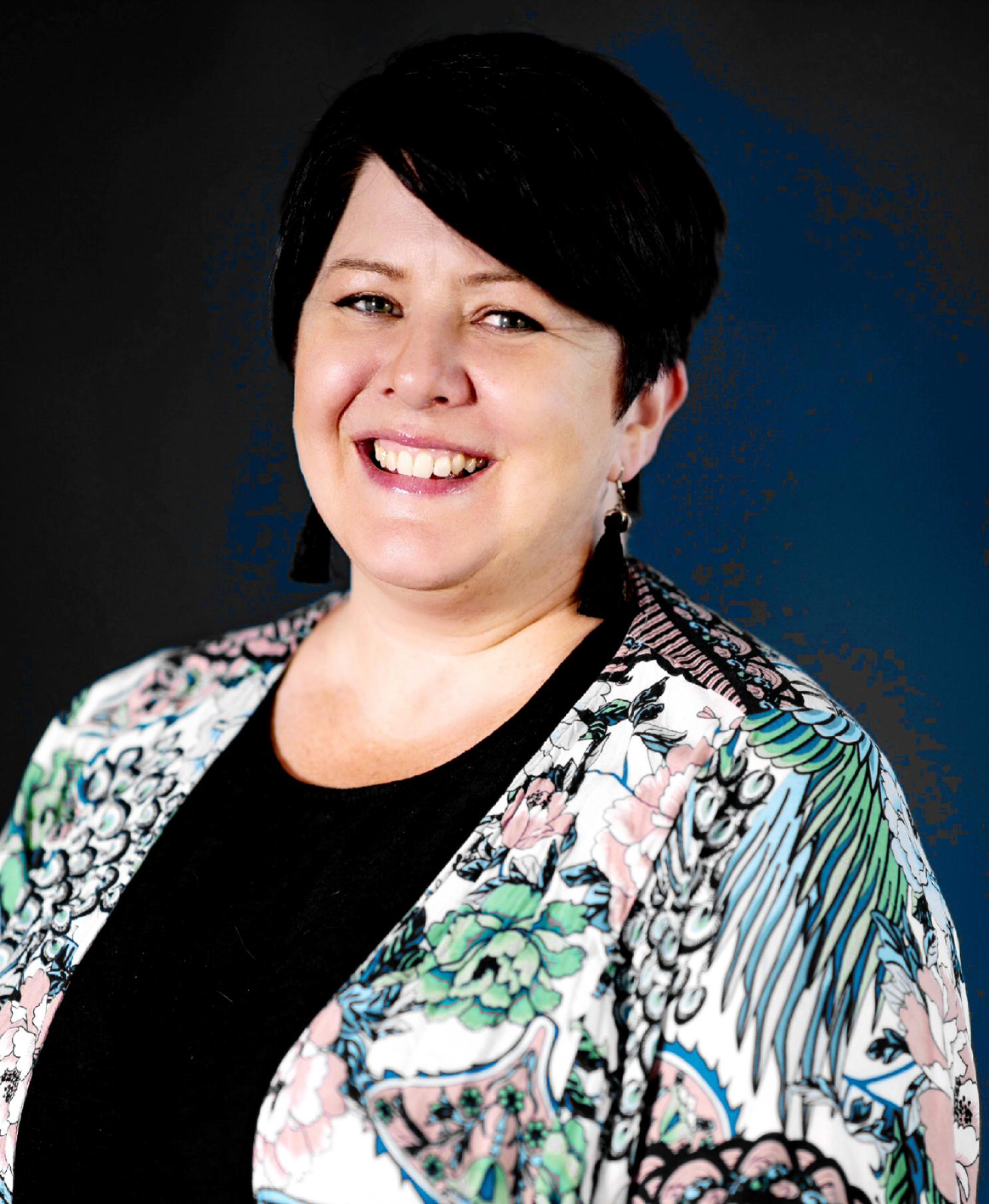 Cath Gregory is a Certified Practicing Speech Pathologist, researcher, and lecturer at the University of Technology Sydney in Australia. Completing a PhD in Neuroscience prior to retraining as a Speech Pathologist, she has always been fascinated by how the brain works. Cath has over 10 years' clinical experience working in both acute and rehabilitation settings and has treated adults with FND in her own private practice for the past 3 years.
Presenter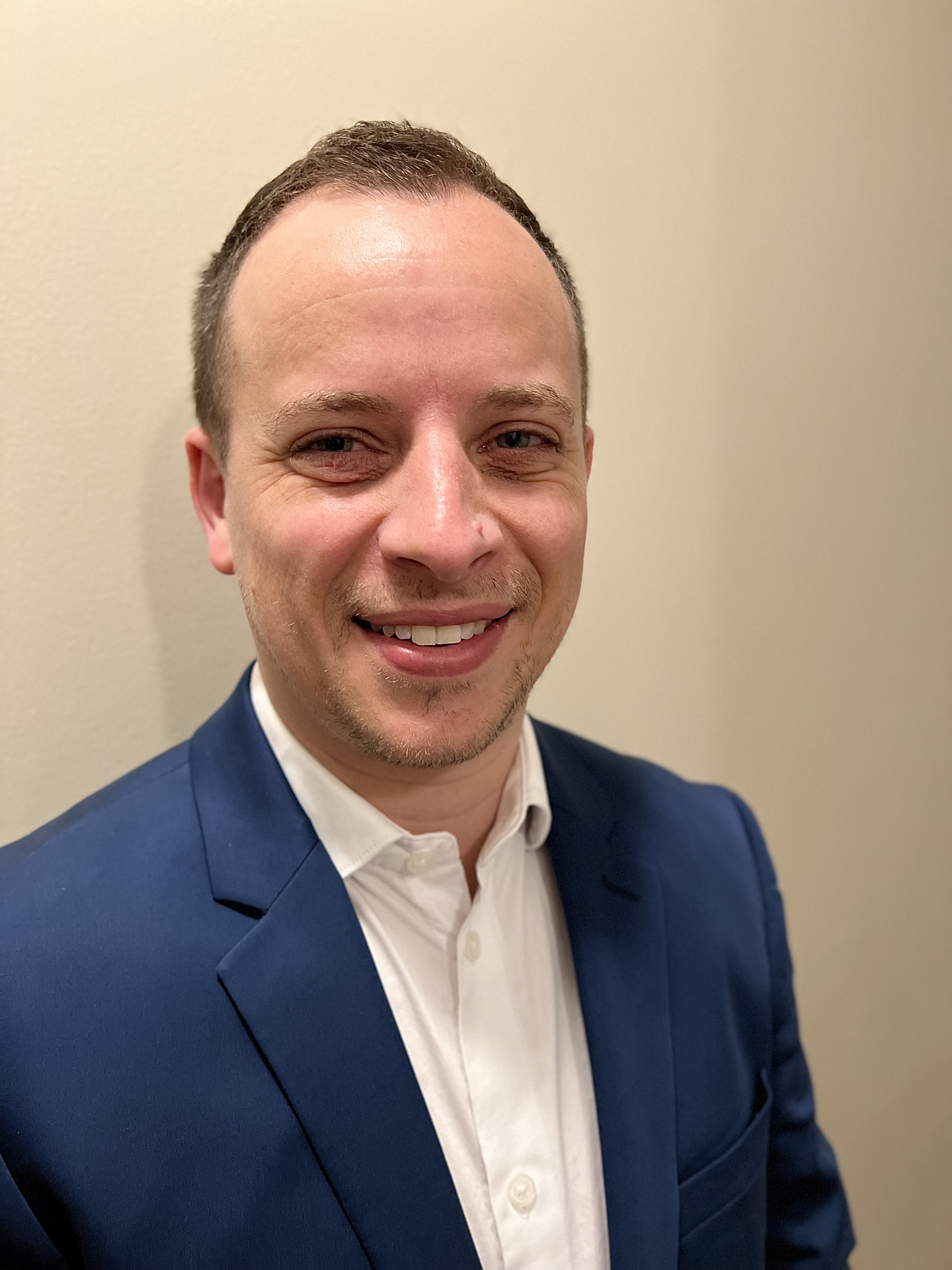 Jason Kreuzman is a pediatric Occupational Therapist at St. Louis Children's Hospital (SLCH) in St. Louis, Missouri. He received a Masters of Occupational Therapy at the University of Indianapolis and has been a licensed Occupational Therapist treating patients with FND and Chronic pain at the Children's Hospital of Philadelphia and Dallas Children's Hospital prior to joining the St. Louis Children's team. Jason currently is Chair of the SLCH FND committee, founding member of the FND Society and active member of the FND Society Pediatric Cohort. He is currently advocating for Occupational Therapy's role within the FND Multi-disciplinary team through research engagement, collaborations with national governing bodies and educating fellow allied health professionals on FND and our key role in patient care. In his free time, he stays active through playing soccer, hiking or his creative outlet of woodworking.
Lecture Description
The importance of multidisciplinary care. In this lecture we will hear from key members of the multidisciplinary team: psychology, speech-language pathology, occupational therapy and physiotherapy. For each discipline we will describe the broad skillset that are used in treatment and the research/clinical literature supporting interventions
The FND Patient Perspective – What Physicians and Other Clinicians Should Know
Presenter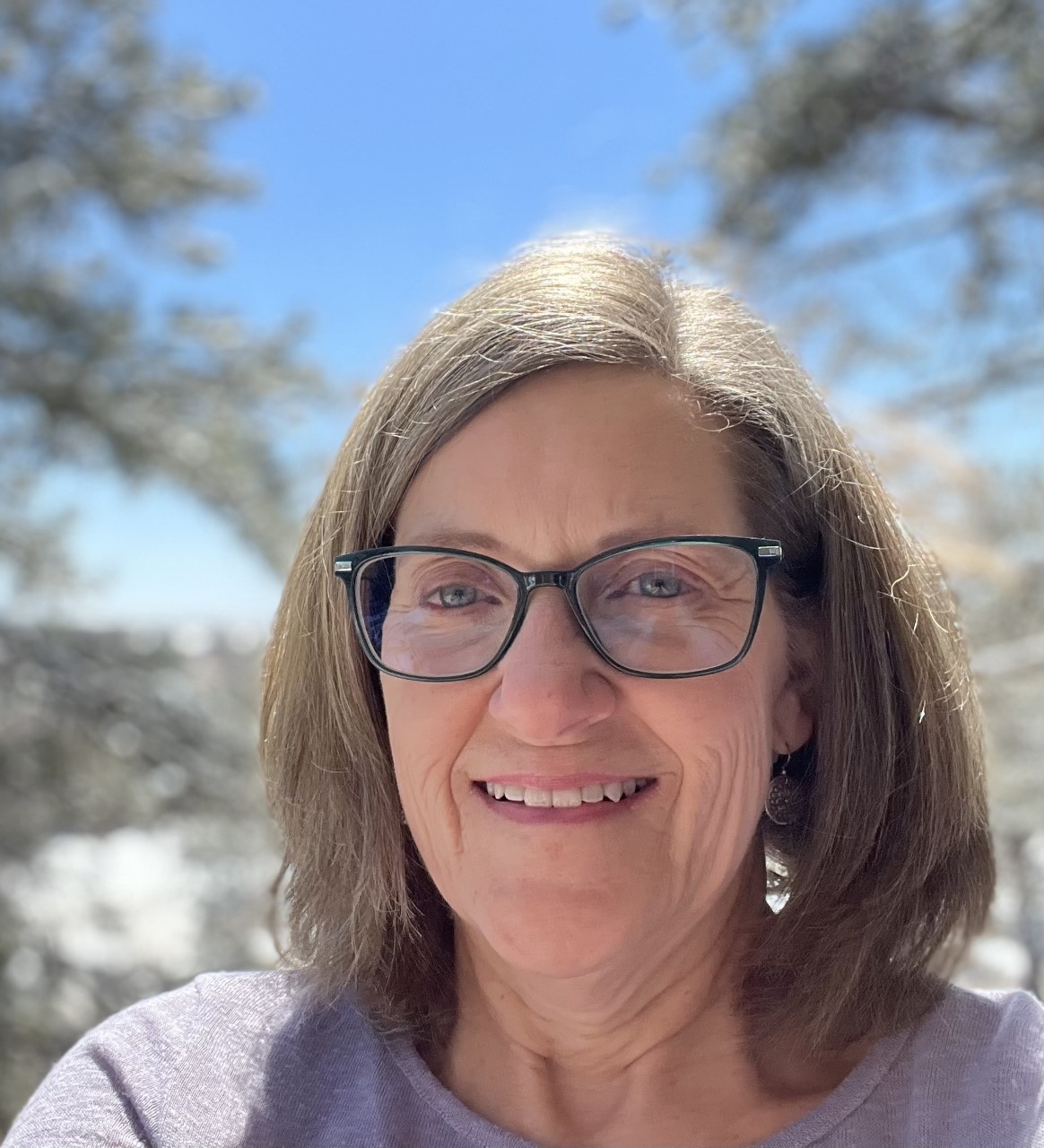 FND Recovery - Maxanne McCormick was working as a pediatric physician assistant when she first experienced functional neurological disorder symptoms in 2000. Eventually she became unable to work, progressing to the point that she needed full-time care in an assisted living facility. Unable to walk, struggling with speech, and finding no help, she developed her own strategies to manage her symptoms. In 2019, Maxanne started her blog FNDRecovery.com to help others with FND. She enjoys gardening, watercolor painting, swimming, and hiking in the beautiful Colorado mountains where she lives. Maxanne is a founding member of the FND Society and serves on the patient liaison committee.
Lecture Description
This talk will present a patient perspective of current FND medical treatment. The speaker will discuss her own experiences with FND, share thoughts and concerns from other FND patients, and offer practical suggestions to improve care for this underserved patient population.
Webinar
The webinar will be live on 15 June 2023 and is 90 minutes. After the live presentation, the webinar and the lectures will be available to view on demand during a 60 day period.
Thursday June 15, 2023 at 11:00 AM Eastern time (3:00 PM UTC)
90-minute webinar on how to address challenges across clinical care settings with short talks by David Perez and Sara Finkelstein. The webinar will include a lively panel discussion from FND experts including Alan Carson, Barbara Dworetzky, Michele Tinazzi, Mark Edwards, Gaston Baslet, Sarah Lidstone, Dara Albert, and Sara Finkelstein.